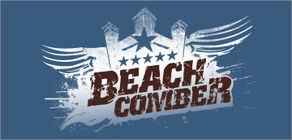 The black sand is evidence of the awesome power of nature, created by lava flowing into the ocean which explodes as it is supercooled by the water. The WWII airbase and the unexploded bombs are evidence of the awesome destructive power of man. The sheer carnage created when these are combined is evidence of the awesome power of the MotorStorm. Let battle commence!
- Loading screen description
Beachcomber is a Water-zone track in MotorStorm: Pacific Rift, based out of a derelict World War II air base. It is a combination of water, mud, beaches and forest, with the odd bit of flat ground in between. This track is perfect for Mud Pluggers, Big Rigs, Monster Trucks and anything else that has a high top speed and enjoys getting covered in dirt and mud. This tricky track has multiple routes.
Track features
Edit
The supports for the wooden bridge (in the first section of forest) are weak and can be demolished, causing a section of the bridge to collapse. The resultant wreckage creates an effective barricade against the smaller vehicles classes.
A large gun at the air base swings around, when hit, to block either of two routes out - it can be bounced out of the way by heavy vehicles, but lighter ones will wreck when they collide with it.
The final stretch consists of a series of dirt mounds, possibly caused by the explosions of large ammunition rounds, which can cause problems for the less nimble vehicles. There are also a series of bunkers at this location and an old wooden watchtower which can be knocked over with the heavier vehicles.
On the beach, there is the wreck of a large bomber aircraft, possibly being a Boeing B-29 Superfortress.
The start/finish straight appears to be the airbase's landing strip/runway.