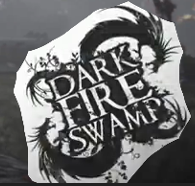 No sooner was this swamp-based track completed than Mother Nature decided to do some heavy handed redesign. With fissures opened up along its length, long-stagnant pools drained and dried, and deadly molten lava rolling in for some hot pool party action, the MotorStorm organizers decided it was the best redesign EVER.
- Loading screen description
Dark Fire Swamp is a DLC Track in the Speed Expansion Pack for in MotorStorm: Pacific Rift.
Despite its lava flow from the track, there is no Volcanic variation of this track.
On the outside route of the first corner, there is a wrecked Patriot Thunderchief in the 'Quickfoot' livery, a livery obtained via DLC in Monument Valley.
This track is mainly based off of two main routes which intertwine with each other, making an eliminator event even more lethal than usual.