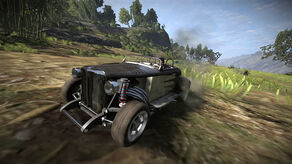 The Falfer Domino is an open-topped hot-rod with a T-bucket base, sporting an impressive V8 engine and classic American street-racer stylings. Delivered in 3 styles, drivers face the choice of 2 beautifully detailed custom paintjobs or the rust-junkie minimalism of the rat rod look.
- PlayStation Store description
The Falfer Domino is a Rally Car featured in MotorStorm and MotorStorm: Pacific Rift.
Unlocking
[
]
MotorStorm
[
]
The Domino was added to MotorStorm as downloadable content, through separate regional means:
as part of the Domino & Adventure vehicle pack, via the EU PlayStation Store[1];
and as the sole vehicle in the MotorStorm™ Falfer Domino vehicle pack, via the US PlayStation Store[2].
MotorStorm: Pacific Rift
[
]
The Domino is unlocked by ranking up in the Festival.
Trivia
[
]
It is modelled after a 1932 Ford V8 Roadster.
It produces the exhaust noise of a turbocharged Rally Car unit, despite visibly having a V8 engine.
The Domino also appears in the RC Carnival Expansion Pack for MotorStorm RC, although its vehicle class has been changed from Rally Car to Muscle Car.
Like all DLC vehicles in the the original MotorStorm, this is one of very few vehicles in Pacific Rift that doesn't carry any liveries over from the original game.
In Pacific Rift, Sarah Hunter (green livery), Shandy Hand (purple livery) and Dmitri Molotov (black/white livery) are the AI Characters seen driving this vehicle.
As is the case with any other vehicle in the original MotorStorm, there are named AI drivers for player liveries who never appear in the game. The name is Chunk for all three liveries.
It is possible that the name Domino is a play on the name Deuce, which is a common nickname for '32 Fords.
Gallery
[
]
References
[
]