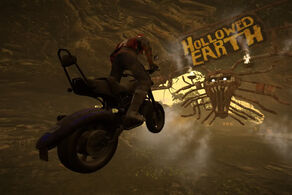 Hollowed Earth is an Earth-zone track in MotorStorm: Pacific Rift. It is a lengthy track with plenty of mud and water, and lots of routes sending you in all directions. This track is good for larger vehicles which can traverse through these hazards such as Monster Trucks and Racing Trucks.
This track and its "Volcanic" variant is only available if the Adrenaline Expansion Pack is downloaded from the PlayStation Store.
Volcanic version
Edit
This track is also available as a Volcanic version when the Adrenaline Expansion DLC is bought. Be careful when playing on this track as many routes may have been blocked off and new ones may have been made. Most of the lake is completely covered with lava and lava cascades throughout the track, making it a potential threat to those who are unfourtunate enough to make even the slightest contact with it.
On the Volcanic version, there are wrecks of various vehicles scattered around the track, two notable ones being the Voodoo Rattler and a Beelzebuggy Bombadier, which seem to have collided with each other.