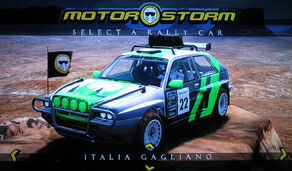 The Italia Gagliano is a Rally Car that is featured in MotorStorm and MotorStorm: Pacific Rift. Unlike others of its class, the Gagliano is well-suited to rough terrain.
Resemblance
[
]
The Italia Gagliano is based on the 1992 Lancia Delta HF Integrale rally car, but depicted as a three-door, rather than a five-door.
Trivia
[
]
In the original MotorStorm, there is a livery for the Gagliano that neither the player nor the AI can obtain; its only appearance is on loading screens for various Rally Car races throughout the game. The livery consists of a white body and a yellow vinyl with black edges over the front and SupaSeven on the side. This livery actually exists in the game files, with the AI driver assigned, but is left unused.
In MotorStorm, on The Grizzly, there is a special livery that looks a lot like the army livery used on the Atlas Jackhammer. Strangely, this livery is not used by the player nor any of the AI opponents and is not seen in any other title.
The Gagliano handles very well on rough terrain when compared to others in its class. It also doesn't slide very much, making it ideal for taking routes that other Rally Cars wouldn't take without consequences.
"Gagliano" is a common prefix for the names of Italian towns.
The Gagliano is available to download for MotorStorm RC for the price of £0.40/€0.49/$0.49. It is marketed as the "Veteran Rally Car".
In Pacific Rift; The Gagliano, along with the Lunar-Tec Weevil and the Patriot Blackfoot, has a unique engine sound different from others in its class.
In Pacific Rift, you unlock this vehicle once you reach Rank 6.
The RSR Livery that appears in the original MotorStorm may be based off the famous Martini Racing livery used on the Lancia Delta HF Intergrale in the World Rally Championship, as it uses similar colours and stripe patterns. This is likely a deliberate reference by the developers.
It is one of the default Rally Cars in the original MotorStorm, alongside the Patriot Surger.
In Pacific Rift, Ali Stoneground (green/grey "DP" livery), Henry T. Pops (red/white "CIOLEK" livery) and Anneleisa Moosbrugger (white/red/blue livery) are the AI Characters seen driving this vehicle.
Gallery
[
]
References
[
]
http://www.facebook.com/MotorStormRC#!/photo.php?fbid=397728636916092&set=a.313948125294144.72987.275572505798373&type=1&theater