There are a total of 15 AI characters in MotorStorm: Arctic Edge. They also serve as AI opponents in the game.
Character Listing
Edit
Jackson Stone
Alex Murdoch
Lily Pink
Kat Rock
Yasmine Sharpe
Ali Stoneground
Johnny Harrison
Mira Hawk
Candy Buzzbomb
Dimitri Molotov
Edward T. Foxbat
Dylan Blaze
Jeff Lawless
Kid Million
Oscar Gratz
Arctic Edge is the first game where, rather than using the random liveries that the player can unlock, every character has a personal livery, shared across every vehicle they drive; these liveries, along with the characters themselves, can be unlocked by completing the festival. This feature returns in Apocalypse.
Kid Million also appears in every other MotorStorm game.
Most AI characters have five unique vehicles, each of a different class, and every class has nine characters driving in it, three per vehicle model. However, all nine do not necessarily appear at once; sometimes, in single-class races, the game will clone a driver. Additionally, because the game has 72 vehicles, which does not divide neatly into 5, some drivers have fewer than five vehicles.
There are also a few characters available exclusively to the player, with seven of them unlocked at the beginning of the game. The other two include:

Helghast Elite Trooper (unlocked by finding all 5 Killzone Emblems)
Outlaw Driver (unlocked by finding all 5 Pursuit Force Emblems)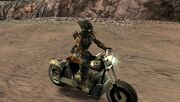 Community content is available under
CC-BY-SA
unless otherwise noted.