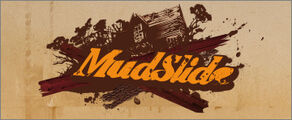 The clue's largely in the title: Mudslide is like one of those crazy rides you get at water parks, except with mud instead of water. And less lobster-pink onlookers. Still, there's plenty of slip-slidey action to engage in, with high routes available for those of you without the tires to tackle the mud.
- Loading screen description

Mudslide is an Earth-zone track in MotorStorm: Pacific Rift, which is, well, full of mud, making the track difficult to accomplish with either a Bike, ATV or Buggy. This map is well suited to larger vehicles such as Monster Trucks and Mud Pluggers due to the track consisting mostly of mud.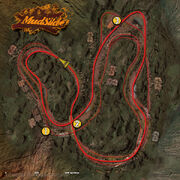 Volcanic Version
Edit
This track is also available as a Volcanic version, but is only playable if you purchase the Adrenaline Expansion Pack. The main differences between this and the standard course is that there are lava bombs scattered around, any standing water has been removed, and the raised wooden area near the end of the track has disappeared.
Shortcuts
Edit
When driving down the main route it is possible to use the small bump in the path to jump over the barriers and onto the main bike route.