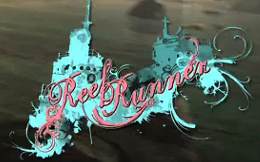 "The world's downright-prettiest boat graveyard, Reef Runner combines hard, fast sand flats, wide coastal shallows and a lightning-fast, foliage-packed jungle sprint. Lightweights should look to hop over the sand banks, heavyweights can tear through the shallows, and everyone else can stick to the middle routes while trying to apply the sunblock and get their swimming trunks on for the post-race beach party."
- Loading screen description
Reef Runner is a coastal track in MotorStorm: Pacific Rift. It is a fairly large track, consisting of shallow stretches of water between islands, beaches, a small section of jungle, and the rusting hulks of shipwrecks can also be found. This track is good for most vehicles especially Monster Trucks, since they are capable of traversing through water at high speed. This track is only available if the Adrenaline Expansion DLC  is downloaded from the PlayStation Store.
The AI on Reef Runner tend to be extremely difficult to beat for unknown reasons, even on Easy difficulty.
Driving through the water just to the right of the multiple miniature ramps at the beginning of the course with a Monster Truck or Big Rig will give you a significant advantage over the competition
At the end in the jungle portion of the track, the best route is to stay on the left side of the track, taking the low ground. This provides less jumps and gives more opportunities for straight out boosting with the numerous ponds in the area.