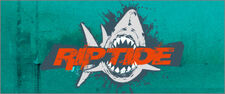 Not to be confused with Ripslide.
"The crowd-pleaser down on the beach, Riptide is the unholy offspring of MotoX and MotorStorm. From MotoX it has inherited ramps, big jumps, whoops, rollers, tight banked turns and technical hairpins, and from MotorStorm its blue eyes, cute little button nose and sandy complexion."
- Loading screen description
Riptide is a Water Zone Track in MotorStorm: Pacific Rift. It is situated on a sunny beach, so expect a lot of sand and water. This track is friendly to all vehicles.
Smaller, more agile classes such as Bikes are the ideal class for racing here, although larger vehicles also benefit because of their sheer power and the ability to simply push other classes out of their way when passing through crucial choke points, such as the first or third jump on the track.
Due to the MotoX nature, Bikes are the best vehicles to use on this track.
A large blue shipping container can be knocked down at the third jump, as it crosses over the large area of water after the first jump.
Riptide lends its name, in a way, to the MotorStorm RC track Ripslide.
There are numerous inflatable objects seen around the track, such as a giant ATV and a cow.
On the first corner after the starting jump; if you stop, you will notice little animated crabs that run across the track.