Jurassic World: Dominion Dominates Fandom Wikis - The Loop
Play Sound
Tracks are the very essence of MotorStorm itself, as it is often the track that determines what vehicle a player will choose, as well as what strategy and routes they will take.
Original Tracks
[
]
Expansion Tracks
[
]
There are 16 tracks on MotorStorm: Pacific Rift (compared to only 8 in the first game). They contain "thick mud, tangled undergrowth, swift flowing rivers, choking volcanic clouds, and searing lava pools". Another new feature in MotorStorm: Pacific Rift is the presence of water in the form of rivers and pools. Water also cools down the vehicle engine, which presents a whole line of new tactics; vehicles will slow down as they go through deep water, with buoyancy featuring for vehicles that venture into water too deep for that vehicle type.
The Tracks:
Expansion Tracks
[
]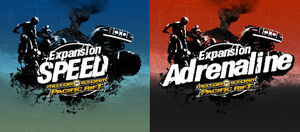 There are also an additional 14 extra tracks, including "Volcanic" versions of the basic tracks. These are only available through buying The Adrenaline and Speed expansion packs from the PlayStation Store. (See Downloadable Content)
New Tracks:

Volcanic Tracks (see original versions to learn more):

Hollowed Earth Volcanic
Scorched Volcanic
Badlands Volcanic
The Edge Volcanic
Mudslide Volcanic
Caldera Ridge Volcanic
Wildfire Volcanic
The Rift Volcanic
There are 12 tracks in Arctic Edge, all of which are reversible. The tracks are separated into three unique zones, each equipped with their own unique set of challenges to face.
The urban setting brings a new twist to MotorStorm tracks. Railway yards, tunnels and tracks are the basis for some, while others a based on residential areas, downtown, suspension bridges, dockyards, and more.
There are 10 tracks in the game, with each having 2-4 different versions (e.g. reversed, different destructive events, etc.)
Other tracks:
There are 16 original tracks, all based off all the four previous MotorStorm games, and 10 brand new tracks in the game, which are downloadable.
MotorStorm: Monument Valley
[
]
MotorStorm: Pacific Rift
[
]
MotorStorm: Arctic Edge
[
]
MotorStorm: Apocalypse
[
]
Shred Space
Skate Factory
Grindhouse
Shove-It