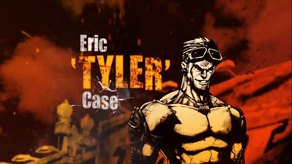 So good he was accepted into the Brotherhood in his freshman year, Tyler's commonly considered to be the future of MotorStorm. Self-assured and cocky, he exploits this reputation to avoid any serious responsibility. When something impossible needs doing, he's right on top of it, keys in the ignition.
"I'll give you a headstart, to make it fair." - Tyler
- Festival Card #015
Eric "Tyler" Case is the playable character for the Pro segment of the Festival in MotorStorm: Apocalypse. He is a member of The Brotherhood, but later finds himself in conflict with fellow member Muerte. His vehicle of choice is the Patriot V8 XR.
He is voiced by Dominic Catrambone.
Tyler's vehicles are predominatly Standard/Matte red, with a unique black and white vinyl that seems to take on a tribal theme, and the hood area sports a black pair of wings that are similar to Tyler's back tattoo. His livery also includes the logo stickers of Ignitro, Quickspeed, and Hoffman.
This list is ordered by how they first appear in Tyler's list of Festival races.
Tyler is the playable character in the MotorStorm: Apocalypse demo.
During an E-brake demonstration on the deck of The Carrier, Tyler accidentally runs over Cutter.
Tyler does not use a Chopper or Monster Truck during the festival.
Tyler's Festival is the longest of the three main characters, having 15 events.
References
Edit