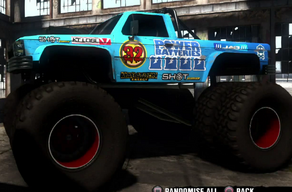 The
Voodoo Mastodon
is a
Monster Truck
featured in
MotorStorm: Pacific Rift
, and returns in
MotorStorm: Apocalypse
as the initially available Monster Truck.
Resemblance
Edit
The Mastodon is modelled after various classic monster trucks, notably the original Bigfoot - which itself was originally a factory-made truck that was later modified to monstrous proportions.
Big Dog drives this vehicle on the track Terminus: "Coach Party" during his events of the Festival. Muerte can be seen driving this vehicle in Wreckreation, as well.
In Apocalypse, the Mastodon is (rather ironically) the only Monster Truck that actually looks like a truck. The other three Monsters (including the DLC Falfer Tombstone) are based off of cars.
The Mastodon is one of the few monster trucks in MotorStorm to have the engine mounted at the front of the vehicle.
In Pacific Rift, the name is spelt "Mastadon", however in Apocalypse & RC, it is correctly spelled Mastodon.
It also appears as a remote-control monster truck in MotorStorm RC.
The Mastodon appears on both versions of the cover of its debut game.
The Mastodon shares some features with the Patriot Bushwacker.
The Voodoo Mastodon has appeared in an E3 trailer of MotorStorm: Pacific Rift. It is shown emerging from a shortcut and sawing through a bike as it makes a sharp corner, which nearly causes a rollover before recovering, running over a Wombat Typhoon in the process. It is then seen bursting through the rubble in front of an unfortunate biker.
The Mastodon appears in two Pacific Rift background cinematics; firstly, as it jumps over some Festival-goers before tearing down the beach and dropping a woman astride a Mohawk Roadhog from its loadbed, and secondly towing a variety of wrecked vehicles down a narrow, rocky gorge into the Island's junkyard.
In both Pacific Rift and Apocalypse, it is seen being carried by a helicopter in the game's intro videos.
In Pacific Rift, this vehicle is unlocked at Rank 5. 
One of the Mastodon's liveries in Pacific Rift is shared with the Wombat Beachmaster. 
A rather humorous error can be noticed in Apocalypse for the Mastodon, in which whenever the player activates the brakes, alongside the tail-lights lighting up, the left head-light lights up as well.
In Pacific Rift, Cerridwen (camo "army" livery), Candy Buzzbomb (red "Indestri" livery) and Reverend Black (red/blue livery) are AI Characters seen driving this vehicle.
In Pacific Rift, the Mastodon shares it's "Accelereighty" livery with the Wombat Beachmaster.
References
Edit
http://www.youtube.com/watch?v=DahCM0GAbeQ
motorstorming.comyr.com
playstation.community.com