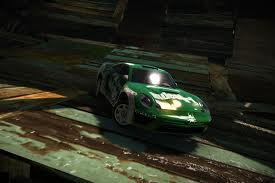 The Wulff Revo is a rally car in MotorStorm and MotorStorm: Pacific Rift. It is a very popular vehicle used by players.
The Revo closely resembles a modernized Porsche 959 Rally Car.
A Chinese New Year livery can be downloaded (for free) for the Revo in the original MotorStorm, which will automatically be available for players, albeit only with the DLC livery.
This vehicle also appears in the Mischief Vehicle Pack 2 in MotorStorm RC.
In the Devil's Weekend DLC, You can unlock a unique purple Sonix livery, available only to the player.
In Motorstorm the drivers are Hunter, Skully, Stitch, Meggan Fitz, Revs Ridout, Evil Wench and Louhi.
The Revo, as seen in concept art, was originally going to have a rally-style light bar.
In Pacific Rift, Oscar Gratz (white/blue/red "Marathon" livery), Gemma Hewitt (graphite "Dragon" livery) and Evalyn Malachite (green "Indestri" livery) are the AI Characters seen driving this vehicle.